The Freedom Scientific Student of the Month program features K-12 students living in the U.S. who are blind or visually impaired and use Freedom Scientific technology to achieve educational goals. The Student of the Month for October 2021 is Lynn, a tenth grader from California.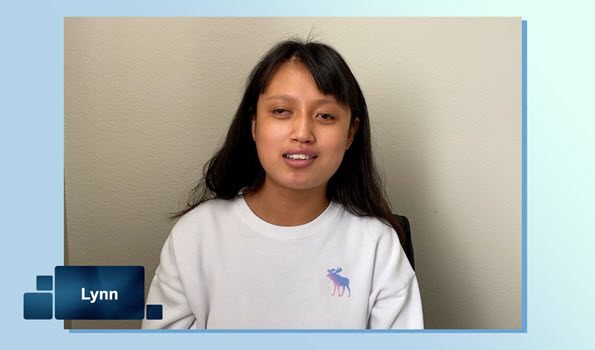 Lynn has been a JAWS user since the sixth grade. She uses it with a braille display to read books, complete assignments, and keep up in the classroom. "I can stay up to date with what others are doing, like if the teacher is showing something, I can read it too. My favorite features of JAWS are its ability to connect to braille displays and Convenient OCR."
Lynn's JAWS skills improved even more during the COVID-19 pandemic when she attended school virtually. "JAWS really helped me at that time because I had to join virtual meetings. I could do everything on my computer with JAWS, and I could be independent without anyone's help. That was really a good feeling to have."
Lynn began participating in the Braille Challenge in 2019, winning third place in the 2020 International Braille Challenge. "It's a way to encourage students to learn braille, and you get to compete and win fun prizes."
In her spare time, Lynn enjoys playing the piano, singing in her school choir, and participating in an after school program called Mock Trial. Here, students are given different roles so they can experience what a real court trial is like.
After graduation, Lynn plans to pursue a career in computer science, psychology, or law. "I think JAWS really gives me a sense of independence. I can stay connected to the world and just have an equal footing with other people. I think that's really important."
Learn more about Lynn in this short video.
Nominate a Student
Complete our nomination form to self-nominate or nominate a student. Visit the Freedom Scientific Student of the Month page for the details. Have questions? Send an email to training@vispero.com.