The Freedom Scientific Student of the Month program features K-12 students living in the U.S. who are blind or visually impaired and use Freedom Scientific technology to achieve educational goals. The Student of the Month for March 2022 is Mercy, a fifth-grader from Pennsylvania.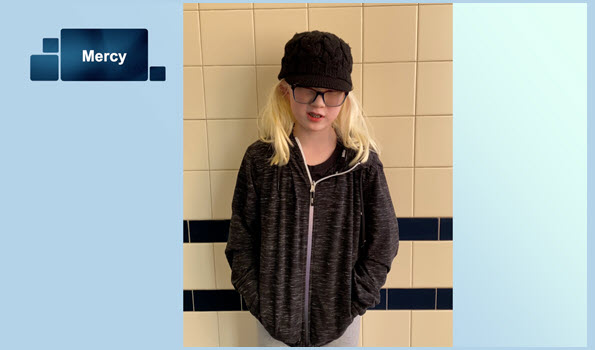 Mercy uses ZoomText Magnifier/Reader software to complete her schoolwork. She enjoys math and says ZoomText helps her when she needs to read long paragraphs and enlarge math problems. "It's really helpful for reading and doesn't cause eye fatigue," she affirms.
Our student of the month recommends ZoomText to others because it promotes independence. "The Magnifier and App Reader let you read and listen on your own instead of having someone read to you," Mercy says. "You can enlarge the mouse pointer and use the color enhancements to make things easier to read."
Outside of school, Mercy is highly competitive in track and field through the Pennsylvania Center for Adaptive Sports, a program for young athletes with disabilities. She runs the 100-meter, 200-meter, and 400-meter races, plus competes in the discus throw, the javelin throw, and shot put. She holds the long jump record in her division at 1.49 meters.
In addition to her athletic feats on the track, Mercy also competes in swimming, plays the piano and drums, and sings in her school choir. In her rare spare time, she enjoys watching YouTube videos and gaming.
Mercy offers advice to athletes who are beginning their competitive journey. "Keep going. When I started out, I thought, 'No way! ' I literally just wanted to quit. Then about a half year later, I started winning medals and won a second-place National Team award."
Learn more about Mercy in this short video.
Nominate a Student
Complete our nomination form to self-nominate or nominate a student. Visit the Freedom Scientific Student of the Month page for details.
Winners receive a $500 Amazon gift card and a computer from Computers for the Blind. Each computer comes with a one-year Home Annual license of JAWS or ZoomText, which is already installed. Learn more about their organization and partnership with Freedom Scientific on their order page.
Have questions? Send an email to training@vispero.com.