The Freedom Scientific Student of the Month Program features K-12 students living in the U.S. who are blind or visually impaired and use Freedom Scientific technology to achieve educational goals. The Student of the Month for March 2021 is Kai, a second grader from California.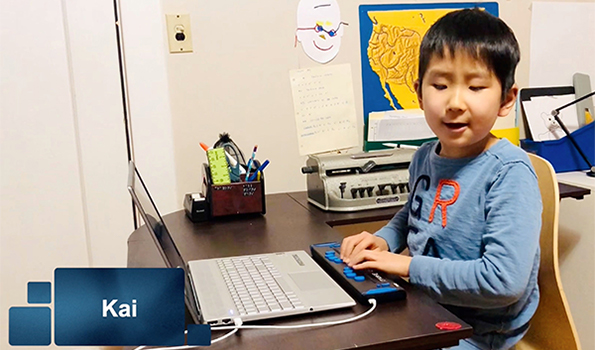 Prior to the COVID-19 pandemic, Kai was not familiar with the technology needed for remote learning. In a few short months, he tackled many obstacles head-on, learning how to use a Windows computer, JAWS, and a Focus Braille Display. He uses these products to complete assignments and fully participate online with his classmates.
Kai enjoys riding his bike and rollerblading, plus has recently learned to ride a skateboard. He employs echolocation, a technique that enables him to identify his surroundings by clicking his tongue. As sound reflects off nearby objects, Kai can determine details such as his distance from them and how fast he is moving.
The technology Kai now uses everyday has become an integral part of his schooling. "Just like if you didn't have the jaws that are part of your body, you wouldn't be able to eat, if I didn't have JAWS and the Focus 40, I wouldn't be able to access online stuff."
Learn more about Kai in this short video, and check out this article published last September in the San Francisco Chronicle.
Nominate a Student

Complete our nomination form to self-nominate or nominate a student. Visit the Freedom Scientific Student of the Month page for the details.