Thanks to you, our survey was a great success! We've summarized the results in this post, and our analysis of your responses will help determine our strategic direction for 2020 and beyond. It is critical that we continually seek customer feedback as we strive to fulfill the learning objectives of an increasingly diverse user base.
A randomly chosen winner was emailed a $100 Amazon gift card. We wish that we could reward everyone because your input means so much to us, but we'll have to settle for reporting the results and extending our heartfelt thanks.
Who responded?
We got a good representation of the people who use our products. A majority of survey participants indicated that they use assistive or access technology daily, and most of the remainder said several times a week. One-fifth were teachers/trainers/instructors, and over a third said that they used our products on the job. We have already begun implementing plans to provide training for teachers, and we'll also continue to focus on those who are employed.
How do users prefer to access info?
So how do our users prefer to access how-to information, such as steps for performing a procedure? The unequivocal answer was online resources—product help, searchable documentation, and knowledgebase articles. Also popular were YouTube videos, the Freedom Scientific website, and Digital Accessible Information System (DAISY) training files.
Only 11 percent liked printed books, so our users are sending us a clear message that they want information accessible online. In response, we are developing increasingly interconnected online resources, such as the migration of ZoomText help and training materials to our Freedom Scientific Training page.
How do users find info?
We learned that the first thing that users do when they have a question is try a search engine, then next search the online help. Therefore, we are simplifying searches by consolidating resources on our Training page. We are also cross-referencing our learning materials, such as placing a link on a Focus webinar page that takes you to a YouTube video on the Focus display.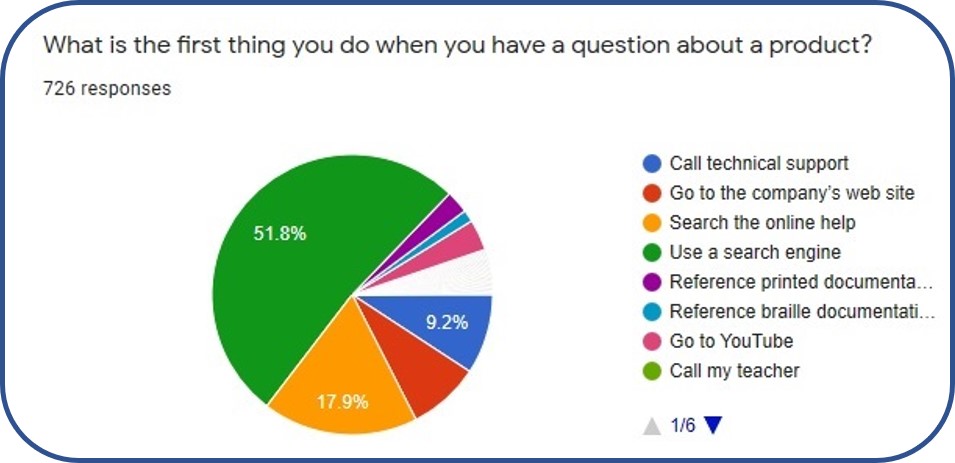 Committed to our mission
This data from this survey supports our accomplishments over the past year and reinforces that we are moving in the right direction. We are committed to developing more robust and user-friendly training and documentation, exemplified by projects we completed recently:
A personal touch
Almost a quarter of our respondents took the time to comment at the end of the survey, and we value every remark. We will continue to collect data as we connect with our product users through our new mailing list, FSOpenLine, our blog, and Twitter (follow us at @freedomsci). And we invite you to email us anytime at Training@Vispero.com.