The Freedom Scientific Student of the Month Program features K-12 students living in the U.S. who are blind or visually impaired and use Freedom Scientific technology to achieve educational goals. Due to the busy holiday season, rather than featuring a student this month, we are highlighting a few of our favorite stories.
McKayla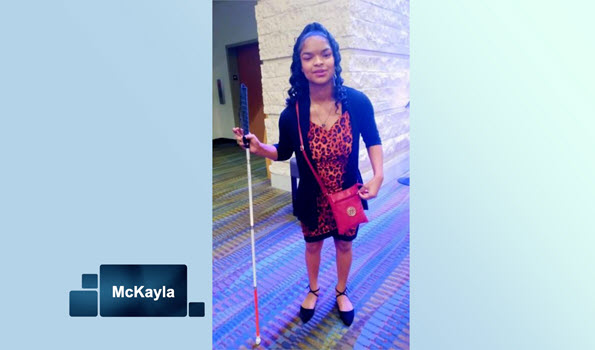 McKayla has been a JAWS user since she was introduced to the software in kindergarten. Today, JAWS primarily assists her in completing assignments and conducting research. "JAWS is an excellent technology to use because it is all auditory," McKayla says.
She also uses a Focus 40 Braille Display to complete classwork, telling us that it gives her another way to access information. "I can use the Focus when I just want to read braille without listening to speech."
McKayla enjoys school and is excited to be accepted into the National Honor Society. Her favorite subject is history. "I like it because the teacher makes it fun," she explains.
She has many musical talents. Besides being in the school choir, where she uses braille to read song lyrics, McKayla enjoys playing guitar and dancing. Best of all, she likes simply spending time with friends and family.
After graduating from high school, McKayla plans to pursue a professional acting and singing career. She advises other students who are blind or visually impaired to learn and use technology both in school and in their daily lives. "Freedom Scientific has helped me so much throughout my journey and throughout my life. I wouldn't be able to do anything without JAWS and the Focus 40 display."
Ky'Ren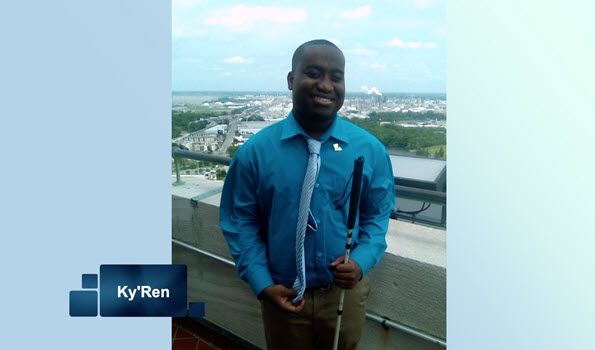 Ky'Ren uses JAWS and ZoomText to complete schoolwork both in and outside of the classroom. Currently, he is learning the Focus 40 Braille Display to add to his repertoire of life-enhancing tools. "Before COVID, whatever I needed to read was enlarged for me on paper, given to me in Braille, or read aloud to me," he says. "Now I read using only a computer, a keyboard, and the software on it. I can read a whole paragraph, a certain section, or even a sentence without straining my eyes."
He recently took the American College Test (ACT) using JAWS and ZoomText, which enabled him to read test contents and solve math equations independently. According to ACT, the organization that administers the college entrance exam, Ky'Ren was the first student to take the test using JAWS.
Ky'Ren's favorite subject is science. "I love learning about chemicals, the human body, and space. It's my strongest subject besides reading and social studies."
He advises other students who are blind or visually impaired to always believe in themselves. "Don't listen to other people's negative words," Ky'Ren says. "Be around people who believe in you. Work hard and never give up no matter what happens."
In his spare time, Ky'Ren enjoys drawing, collecting comic books, and photography.
Holly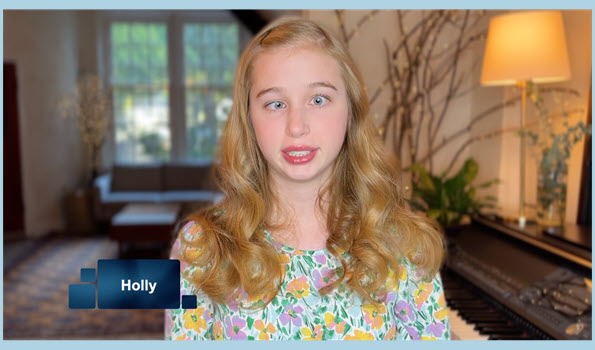 Holly began using JAWS and the Focus 40 Braille Display in the seventh grade, and said each product provides a lot of versatility, but when used together, they offer even more flexibility. "Using them together is better than using a mobile notetaker. I can access applications for school, check email, and do a lot of things that aren't accessible on other devices."
During the pandemic, JAWS and the Focus enabled her to access coursework and valuable tools online. For example, she regularly creates and edits Google documents, performs research, and reads assigned literature. "I can accurately format my documents, access JAWS features, use Chrome extensions, and access tools like Grammarly and the Desmos Graphing Calculator," Holly says.
Outside of academics, Holly sings, acts, and dances in musical theater. She was involved in her first full youth production when she was 11 years old, and has since been in more than 75 shows.
Holly also plays numerous musical instruments, including classical piano and ukulele, plus freelance as a voice over actor. After graduation, she plans to take a year to brush up on daily living, assistive technology, and mobility skills, then will attend college to pursue a degree in vocal performance.
Learn more about these students in this video recap.
Nominate a Student
Complete our nomination form to self-nominate or nominate a student. Visit the Freedom Scientific Student of the Month page for details.
Have questions? Send an email to training@vispero.com.
Watch our blog in February for the next student's story.