The Freedom Scientific Student of the Month program features K-12 students living in the U.S. who are blind or visually impaired and use Freedom Scientific technology to achieve educational goals. The Student of the Month for February 2023 is Karl, a student in third grade from California.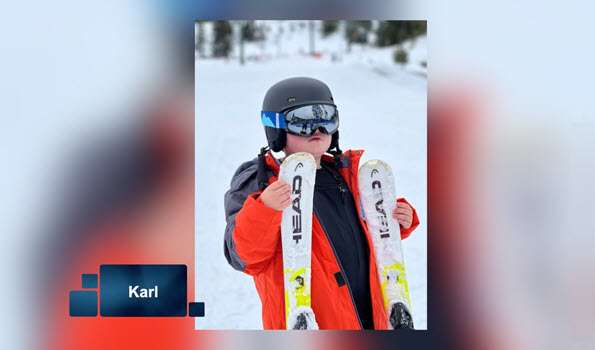 Karl has been using JAWS since he was six, and regularly completes schoolwork at home and in the classroom using JAWS. "JAWS helps blind kids know what's on the screen. Most can't read print so they use braille and JAWS," Karl says.
JAWS was especially helpful to him when completing assignments during the COVID-19 pandemic. "I needed JAWS at home because everything was done virtually. I also like it because it teaches you to be independent."
Karl, who also knows braille, says it is especially helpful for subjects like reading and math. He looks forward to getting a refreshable braille display soon.
Karl's favorite subject in school is math. "I like it because I get to solve very, very, very hard problems."
In his spare time, Karl enjoys horseback riding, singing, German dancing, and playing with his little sister. He recounted a recent family trip where he learned to ski, describing it as "snow cool!"
Karl said his dream job is to be a full-time actor. He already has several notable credits, including roles in episodes of two television series—This Is Us (2016) and Tab Time (2021)—as well as a Target commercial. "I really like to act because it's fun. I would tell other people who want to act to be patient, be nice to people, let them do what they have to do, and be happy on the set."
Karl recommends JAWS to other kids, saying "thanks to JAWS, I'm going to be able to use a computer just like everyone else."
Learn more about Karl in this short video.
Nominate a Student
Complete our nomination form to self-nominate or nominate a student. Visit the Freedom Scientific Student of the Month page for details.
The selected Freedom Scientific Student of the Month will receive a $300 Amazon gift card, and a five-year license of JAWS, ZoomText, or Fusion. Also, their story will be featured by Freedom Scientific on our blog and social media: Twitter, Facebook, and Instagram.
In partnership with Computers for the Blind, each winner is eligible to receive a free, refurbished computer along with a free Home Annual license of JAWS or ZoomText, which is already installed. Learn more about Computers for the Blind and their partnership with Freedom Scientific on their order page.
Have questions? Send an email to training@vispero.com.