The Columbia Lighthouse for the Blind has an amazing Pre-Employment Training program for Young Adults. The program runs from October to June with the students meeting up for once a month workshops and ends with a 3-week intensive workshop in July. This years' program consisted of 7 students completing these workshops and internships. The students ranged in age from 14-21 years old and are either blind or low vision. Normally the workshop would be held at The Catholic University in DC where the students would live in dorms and practice college living. The current situation around COVID-19 meant that this year the program was held virtually for the "QuaranTeen" students. Being virtual meant that Bethany Martin, Manager of Youth and Education Services, had to come up with a completely new way to teach this workshop. "In the virtual setting I was able to give students independence in their homes in real-time, building confidence in their most comfortable environment. I was also able to connect the students with resources outside of their communities. They connected with a job site in a virtual internship and met role models of adults who are blind and visually impaired. The program allowed me to grow as a teacher and be creative in planning lessons that would be impactful for student success. The students and I worked together to achieve a memorable, fun and positive virtual experience." All of the students were issued a computer, headset, and the free COVID-19 home license of Fusion software from Freedom Scientific.
The three-week intensive workshop ran Monday through Friday. Each day started with a morning meeting and then the students were off (virtually) to their internships. The internships ran from Monday to Thursday and were with a variety of organizations from the Washington Metro Transit Authority where a student worked with the Accessibility Task Force, to an IT consulting firm, a local non-profit organization working to end poverty in the Maryland/DC area, and a DC Youth Leadership program with the office of the Mayor of DC.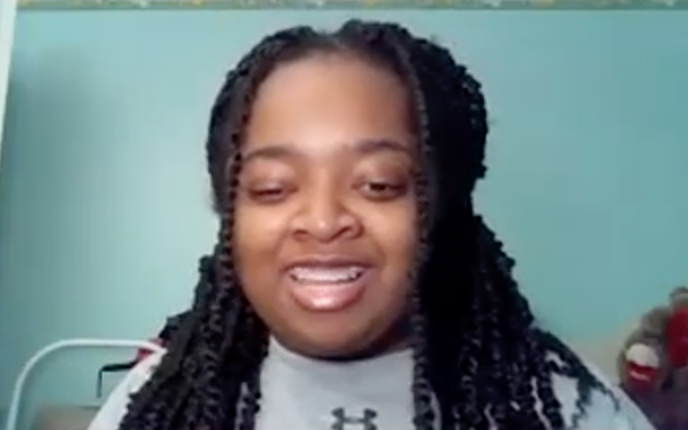 In the afternoon, the students attended online workshops via Zoom for a variety of themed topics such as Motivation Monday with a personal trainer to discuss healthy eating and exercise. Time to Adult Tuesday focused on money management and finances. Mobility was on the schedule for Where Am I Wednesday and Thursday centered around Assistive Technology. The students were able to talk to other blind or low vision adults who are out in the workforce and able to share their experiences. Friday was set aside for Feeling Independent, where students were sent care packages by CLB which included everything they would need for the virtual cooking class. Danielle, one of the LITE students stated, "I liked the program because I could collaborate with other people in quarantine. I gained experience working online and talking to the other participants was great. I enjoyed learning how to cook, making and eating something together. I also enjoyed the workshops each afternoon like health and nutrition. I also received a laptop from CLB with ZoomText and JAWS (screen reading software). Overall, it's a very interesting, busy program. I have never done anything like this, and hopefully we can do more together. I have more confidence."
At the end of the program, the 7 students participate in a closing ceremony. Six of these students were either already in college or just starting, and the 7th is finishing her senior year of high school. By adapting to a virtual teaching environment and providing students with the necessary tools to learn, this program continues to ensure that each participating student has a sure shot at success.