The Freedom Scientific Student of the Month program features K-12 students living in the U.S. who are blind or visually impaired and use Freedom Scientific technology to achieve educational goals. The Student of the Month for August 2022 is Ky'Ren, a senior from Louisiana.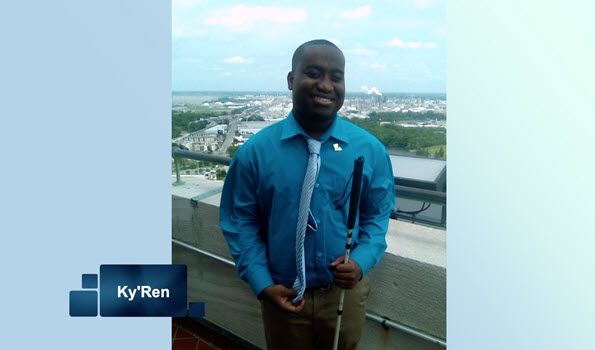 Ky'Ren uses JAWS and ZoomText to complete schoolwork both in and outside of the classroom. Currently, he is learning the Focus 40 Braille Display to add to his repertoire of life-enhancing tools. "Before COVID, whatever I needed to read was enlarged for me on paper, given to me in Braille, or read aloud to me," he says. "Now I read using only a computer, a keyboard, and the software on it. I can read a whole paragraph, a certain section, or even a sentence without straining my eyes."
He recently took the American College Test (ACT) using JAWS and ZoomText, which enabled him to read test contents and solve math equations independently. According to ACT, the organization that administers the college entrance exam, Ky'Ren was the first student to take the test using JAWS.
Ky'Ren's favorite subject is science. "I love learning about chemicals, the human body, and space. It's my strongest subject besides reading and social studies."
He advises other students who are blind or visually impaired to always believe in themselves. "Don't listen to other people's negative words," Ky'Ren says. "Be around people who believe in you. Work hard and never give up no matter what happens."
In his spare time, Ky'Ren enjoys drawing, collecting comic books, and photography. Learn more about Ky'Ren in this video.
Nominate a Student
Complete our nomination form to self-nominate or nominate a student. Visit the Freedom Scientific Student of the Month page for details.
Winners receive a $500 Amazon gift card and a computer from Computers for the Blind. Each computer comes with a one-year Home Annual license of JAWS or ZoomText, which is already installed. Learn more about Computers for the Blind and their partnership with Freedom Scientific on their order page.
Have questions? Send an email to training@vispero.com.