The Freedom Scientific Student of the Month Program features K-12 students living in the U.S. who are blind or visually impaired and use Freedom Scientific technology to achieve educational goals. Rather than featuring a student this month, we are highlighting a few of our past winners.
Karl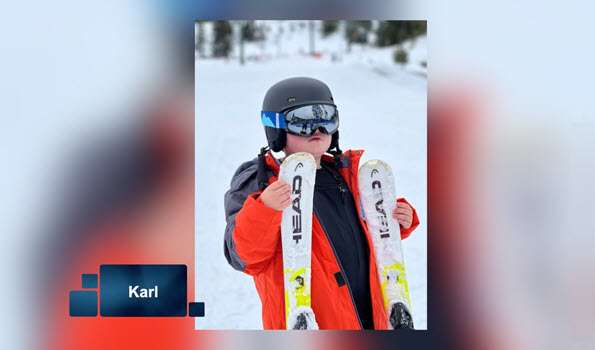 Karl is a third-grade student from California. He has been using JAWS since he was six, which helps him complete schoolwork at home and in the classroom. "JAWS helps blind kids know what's on the screen. Most can't read print so they use braille and JAWS," Karl says.
JAWS was especially helpful to him when completing assignments during the COVID-19 pandemic. "I needed JAWS at home because everything was done virtually. I also like it because it teaches you to be independent."
Karl, who also knows braille, says it is especially helpful for subjects like reading and math. He looks forward to getting a refreshable braille display soon.
Karl's favorite subject in school is math. "I like it because I get to solve very, very, very hard problems."
In his spare time, Karl enjoys horseback riding, singing, German dancing, and playing with his little sister. He recounted a recent family trip where he learned to ski, describing it as "snow cool!"
Karl said his dream job is to be a full-time actor. He already has several notable credits, including roles in episodes of two television series—This Is Us (2016) and Tab Time (2021)—as well as a Target commercial. "I really like to act because it's fun. I would tell other people who want to act to be patient, be nice to people, let them do what they have to do, and be happy on the set."
Karl recommends JAWS to other kids, saying "Thanks to JAWS, I'm going to be able to use a computer just like everyone else."
Layla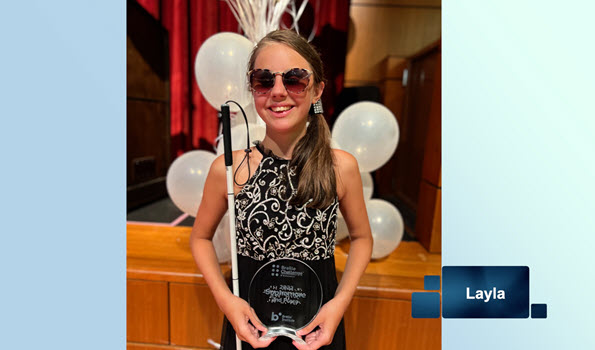 Layla is a seventh-grader from North Carolina. She uses a laptop with JAWS to complete assignments both in school and at home. "It works well for Google products like Drive, Classroom, Docs, Slides, and Forms for submitting work."
Layla, who began using JAWS in the second grade, said it really helps her when conducting research. "I really like how JAWS works with Google. It helps a lot when I need to search for information."
Layla said her JAWS skills improved during the pandemic when she had to attend classes and complete schoolwork online. One of her favorite features is the Voice Assistant, which she uses mostly at home. "I also especially like JAWS commands because they make things so much easier."
Layla plays the clarinet in her school band, and upon auditioning, was recently selected as second chair clarinet for the All-County band, and fifth chair in the All-District band. She also enjoys participating in drama at her school, and has acted in several plays.
Layla's favorite subject in school is English. "I love to read and to debate themes and concepts. I really like that there is no right or wrong answer sometimes. That makes the discussions fun."
In her spare time, Layla enjoys swimming, rock climbing, hiking, and tandem biking. She noted several career interests including actor, singer/songwriter, author, and dolphin trainer.
Layla advises other students who are blind to use JAWS at school and at home. "JAWS works well with a lot of different things. It is very fast and help messages are there if you need them. It's very helpful to anyone who needs it."
Mohamed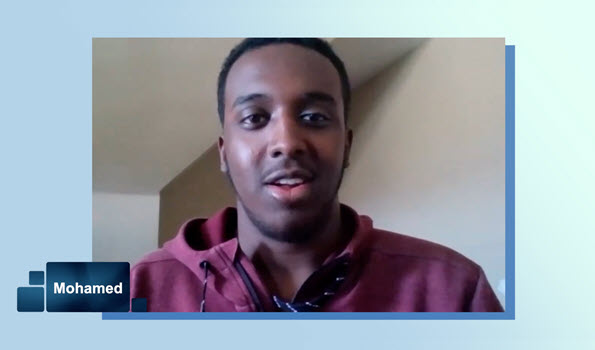 Mohamed is a senior from Minnesota. He grew up with 20/20 vision, but during his freshman year in high school, began experiencing vision loss. By his junior year when he was diagnosed with a visual impairment, he needed tools to aid him in using the computer and completing classwork.
Already enrolled as a full-time college student though still a senior in high school, Mohamed began using ZoomText to complete assignments and participate in classes. He says ZoomText has changed his outlook on the tools available to help those who are visually impaired. "I was not familiar with a laptop and applications like Excel, Word, or even Teams. I was doing things really slowly and struggling with things like chatting in Teams. ZoomText changed all of that because of its magnification and screen reader."
Mohamed also works as an intern with Optum, a branch of United Healthcare, one of the largest healthcare providers in the world. There, he tests training tools for accessibility, compiles data, and completes team projects. "They got me ZoomText, and that's where it all changed. I can complete training, keep up with messages, and just do things faster. It made my productivity go up a lot."
Mohamed wrestles on his high school's varsity wrestling team, and in his spare time, enjoys cycling. He also participates in a running club on the college campus where he is enrolled, and plays basketball at his local YMCA.
After graduating, Mohamed plans to attend college and pursue a career in either sales or software engineering. He encourages others to develop self-advocacy skills, which will prove helpful in high school, college, and beyond. "When advocating for yourself, the main things to consider are feasibility and reasonability. If you know what you want, it's a lot easier to get things done."
Mohamed recommends ZoomText to others who are visually impaired, and said self-advocacy is the key to success. "If you understand your eye condition, you can explain the ins and outs of it to others. You will know what you can do on your own and what you need help with, and you can still be very successful in life."
Learn more about these students in this highlight video.
Nominate a Student
Complete our nomination form to self-nominate or nominate a student. Visit the Freedom Scientific Student of the Month page for details and watch our blog in July for the next winner and that student's story.
Winners receive a $300 Amazon gift card and a five-year license for JAWS, ZoomText, or Fusion. Their story will be featured by Freedom Scientific on our blog and social media: Twitter, Facebook, and Instagram.
In partnership with Computers for the Blind, each winner can also receive a free, refurbished computer along with a free one-year Home Annual license of JAWS or ZoomText, which is already installed. Learn more about Computers for the Blind and their partnership with Freedom Scientific on their order page.
Have questions? Send an email to training@vispero.com.