The Freedom Scientific Student of the Month Program features K-12 students living in the U.S. who are blind or visually impaired and use Freedom Scientific technology to achieve educational goals. Due to the busy July conference schedule, rather than featuring a student this month, we are highlighting a few of our favorite stories.
Brennan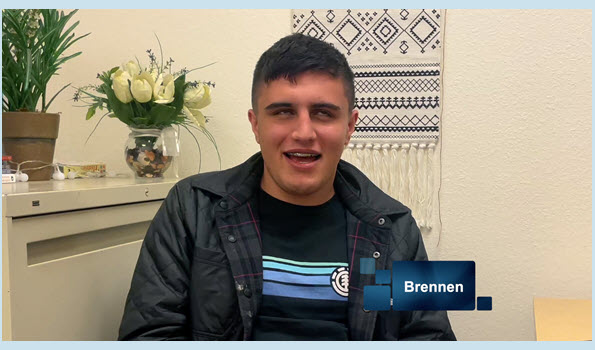 Brennan is a senior from California who primarily used a Braille notetaker until last year, when he discovered better options. He began learning to use JAWS with the Focus 40 Blue 5th Generation Braille Display, and he quickly made exceptional progress. "JAWS helps me access the internet in ways I didn't know were possible," Brennan said. "It puts me on the same playing field as my sighted peers."
Brennan prefers using a computer with the Focus 40 Blue over a Braille notetaker because of the additional functionality. "Computers as a whole are far superior to notetakers when research is involved. You can do more with them, and they provide a far more streamlined method of accessing the internet," he said. Brennan uses the Focus to complete his written assignments, and English is one of his favorite subjects.
In his spare time, Brennan practices Brazilian jiu-jitsu, a martial art and combat sport that relies on leverage, grip, and position to subdue and take his opponent to the ground. He also enjoys producing music using computer applications. "I like having control over production and am fascinated by all the effects used to make things happen," he said.
Brennan also interned with Freedom Scientific, where one of his duties was testing braille displays. "It was my first work experience, and it was amazing," he said. "I got to help blind people achieve their dreams, and I'm happy to have been a part of that."
Brennan wants to become JAWS-certified before graduation because he realizes that JAWS and the Focus display will make him more competitive in the workforce. "Freedom Scientific products prepare me to achieve my future goals. Without them, I wouldn't be able to do the things I can do," he said.
Jon Paul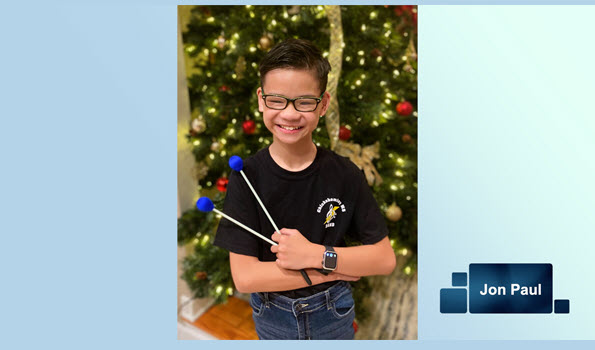 Jon Paul is an eighth-grader from Virginia who began using JAWS when he was 5 years old. Today, he uses JAWS and his Focus 40 Blue Braille Display to browse the web, read documents, and complete schoolwork. He says math is his favorite subject. "I like using JAWS because it helps me with my assignments. JAWS makes things accessible to everyone."
Jon Paul's dad, Mike, who is also a JAWS user, expresses how it levels the playing field. "It enables me to access the internet, read and edit my Word documents, and access my email," he said.
Jon Paul's mom, Faye, said having two JAWS users in the family places them at the forefront of technology. "Accessibility is key for everyone. Freedom Scientific addresses that need."
When not doing schoolwork, Jon Paul stays busy with sports activities. He competes on his school's swim team and is a manager on the baseball team.
Ivy-Ann and Saffy
Ivy-Ann and Saffy are sisters from Alabama who are 13 and 12 years old respectively. Home-schooled by their mother, they both use the ONYX® Deskset HD video magnifier to read printed materials and complete schoolwork. They like the large screen because it enables them to see a large amount of text at once.
Their dad, Brian, expressed his gratitude for the ONYX, saying, "When we found out we had access to the ONYX, we were thrilled. We could see the benefit of what it would do for Ivy-Ann and Saffy."
Their mom, Kelli, expresses the same sentiment. "I home school them and use a variety of tools to get things done," she says. "The ONYX is a blessing. We're grateful you make the tools you do. They have changed the girls' lives, which changes our lives."
Ivy-Ann also uses a RUBY® handheld video magnifier to read printed materials. "I use it to read books when I need a smaller device," she says.
When asked what advice she has for other students, Ivy-Ann said, "Try your best to make it work and let other people help you so you can know what's going on. It would be hard if I didn't have access to the ONYX and RUBY. Regular magnifiers never blow anything up enough for performing certain tasks."
In her spare time, Ivy-Ann enjoys writing fantasy novels, and she aspires to be a published author and illustrator. Saffy makes felt dolls and uses the ONYX to thread needles and sew. Ivy-Ann and Saffy also enjoy making short animation videos. Each video is under a minute long and includes music and pictures they have drawn.
Learn More
Learn more about these students in this video recap.
Nominate a Student
Complete our nomination form to self-nominate or nominate a student. Visit the Freedom Scientific Student of the Month page for details and watch our blog in August for the next student's story.