The Freedom Scientific Student of the Month program features K-12 students living in the U.S. who are blind or visually impaired and use Freedom Scientific technology to achieve educational goals. The Student of the Month for September 2023 is Belen, a sophomore from Ohio.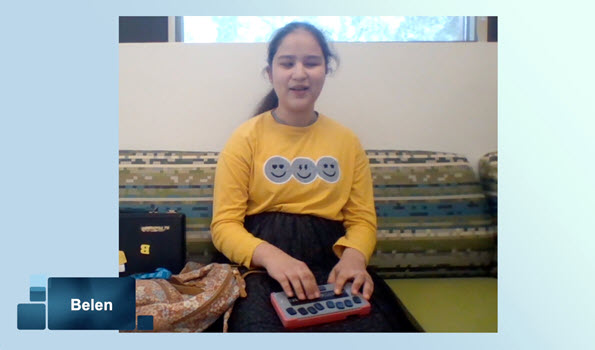 Belen uses JAWS to complete her schoolwork and navigate applications like Google Workspace apps, Google Forms, and the Desmos Online Graphing Calculator. "I like JAWS because I can change it to a voice I can understand," Belen explains.
Her favorite subject is science because the hands-on activities in that class make learning easier for those with a visual impairment."
Outside of school, Belen enjoys reading almost any fiction genre except horror. She also likes singing and listening to music. "I love music. After college, I would like to work as a music therapist with people who have visual impairments. It would be a fun career."
Belen is thankful for Freedom Scientific because it helps her access information more easily, especially in school. "Just because you are visually impaired doesn't mean you can't do this or that. Don't let your visual impairment get in the way of that. There's a lot you can do, so follow your passion and you can do anything you put your mind to."
Learn more about Belen in this video.
Nominate a Student
Complete our nomination form to self-nominate or nominate a student. Visit the Freedom Scientific Student of the Month page for details.
Winners receive a $300 Amazon gift card and a five-year license for JAWS, ZoomText, or Fusion. Their story will be featured by Freedom Scientific on our blog and social media: X (formerly Twitter), Facebook, Mastodon, and Instagram.
In partnership with Computers for the Blind, each winner can also receive a free, refurbished computer along with a free one-year Home Annual license of JAWS or ZoomText, which is already installed. Learn more about Computers for the Blind and their partnership with Freedom Scientific on their order page.
Have questions? Send an email to training@vispero.com.