The Freedom Scientific Student of the Month program features K-12 students living in the U.S. who are blind or visually impaired and use Freedom Scientific technology to achieve educational goals. The Student of the Month for October 2023 is Max, a junior from California.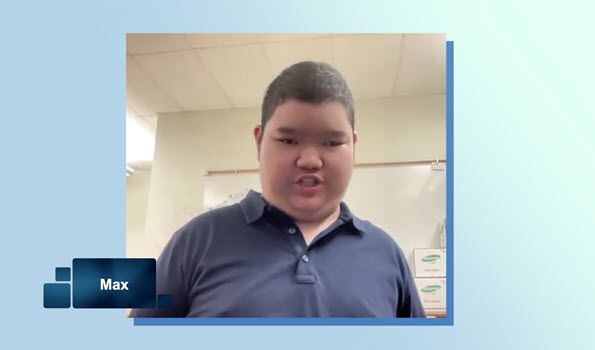 Max uses JAWS to access assignments on the Canvas Learning Management System, read web content, use email, and navigate Google Drive. "I have been using JAWS for about two years," Max tells us. "In the beginning it was hard, but I started learning keystrokes and practicing, and it got easier." He is also learning to use the Focus 40 Braille Display.
In his spare time, Max enjoys listening to music, especially genres like Country and K-pop (Korean popular music). He also likes watching anime (a style of Japanese animation) on YouTube and reading, with the Harry Potter series among his favorites.
Max's favorite subjects are math and history. He especially likes learning about the history of the U.S.
Max is currently taking a Culinary Arts class in school, and said he is interested in becoming a chef after graduating. "If I have what I need, I can still do the same things as people who are sighted, just in a different way."
Learn more about Max in this video.
Nominate a Student
Complete our nomination form to self-nominate or nominate a student. Visit the Freedom Scientific Student of the Month page for details.
Winners receive a $300 Amazon gift card and a five-year license for JAWS, ZoomText, or Fusion. Their story will be featured by Freedom Scientific on our blog and social media: X, (formerly Twitter), Facebook, Mastodon, and Instagram.
In partnership with Computers for the Blind, each winner can also receive a free, refurbished computer along with a free one-year Home Annual license of JAWS or ZoomText, which is already installed. Learn more about Computers for the Blind and their partnership with Freedom Scientific on their order page.
Have questions? Send an email to training@vispero.com.