The Freedom Scientific Student of the Month program features K-12 students living in the U.S. who are blind or visually impaired and use Freedom Scientific technology to achieve educational goals. The Student of the Month for August 2022 is Holly, a senior from Missouri.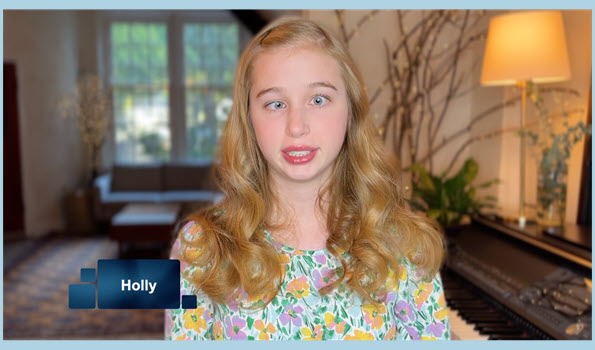 Holly began using JAWS and the Focus 40 Braille Display in the seventh grade, and said each product provides a lot of versatility, but when used together, they offer even more flexibility. "Using them together is better than using a mobile notetaker. I can access applications for school, check email, and do a lot of things that aren't accessible on other devices."
During the pandemic, JAWS and the Focus enabled her to access coursework and valuable tools online. For example, she regularly creates and edits Google documents, performs research, and reads assigned literature. "I can accurately format my documents, access JAWS features, use Chrome extensions, and access tools like Grammarly and the Desmos Graphing Calculator," Holly says.
Outside of academics, Holly sings, acts, and dances in musical theater. She was involved in her first full youth production when she was 11 years old, and has since been in more than 75 shows.
Holly also plays numerous musical instruments, including classical piano and ukulele, plus works as a freelance voice over actor. After graduation, she plans to take a year to brush up on daily living, assistive technology, and mobility skills, then will attend college to pursue a degree in vocal performance.
Learn more about Holly and hear a sampling of her talents in this video.
Nominate a Student
Complete our nomination form to self-nominate or nominate a student. Visit the Freedom Scientific Student of the Month page for details.
Winners receive a $500 Amazon gift card and a computer from Computers for the Blind. Each computer comes with a one-year Home Annual license of JAWS or ZoomText, which is already installed. Learn more about Computers for the Blind and their partnership with Freedom Scientific on their order page.
Have questions? Send an email to training@vispero.com.