The Freedom Scientific Student of the Month Program features K-12 students living in the U.S. who are blind or visually impaired and use Freedom Scientific technology to achieve educational goals. Rather than featuring a student this month, we are highlighting three of our past winners.
Alan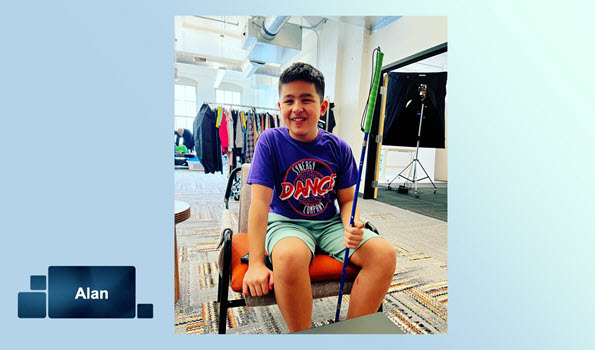 Alan is a seventh grader from Pennsylvania. Blind since birth, Alan uses JAWS and the Focus Braille display both at school and at home to complete assignments. "I use the Focus with Google Docs," Alan explains. "It has a lot of cells, which is good for reading."
Alan also uses JAWS and the Focus to access PowerSchool Schoology Learning, which his school uses to make course materials available online. "Students can access assignments and grades, and message teachers if we need help with assignments. I often use JAWS to access that," he says.
His braille expertise made his parents proud when Alan won first place in the Pennsylvania Braille Challenge, an academic contest that encourages students who are blind to practice their braille skills. "I started learning braille in preschool and use it a lot," Alan tells us.
He has also won first place and many other awards as a tap dancer competing against sighted dancers. "I like the sound aspect of tap dance. It sounds cool, and the moves are straightforward most of the time," he explains.
In his spare time, Alan keeps busy! He skis, plays video games, evaluates games for accessibility, and records music using a Windows-based application called REAPER.
Brock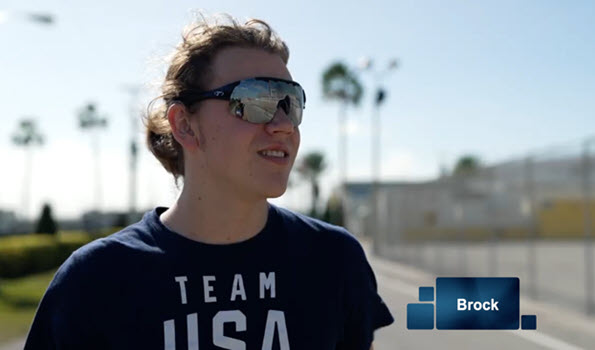 Brock is a high school senior from Tennessee who began attending the University of Alabama in this fall, where he studies computer science.
Brock is Deaf Blind and has been using assistive technology since kindergarten. He uses Fusion to access and complete assignments and said he has always requested digital formats for books and other study materials. "I use a combination of ZoomText and JAWS, especially since I want to be a computer programmer," he explains. "I need JAWS to read lines of code, so I use it as much as I can."
Brock is a long-time triathlete, where he competes in swimming, cycling, and running. He has completed 85 triathlons in the past ten years.
Brock is also a member of the United States Blind Hockey team. He plans to join the triathlon and hockey teams in college to continue training and competing. He began playing on a hockey team for disabled children when he was six. "I left that team after two years but kept skating. In 2016, I was chosen by the Canadian Blind Hockey team and have played ever since."
Brock has already completed 35% of his bachelor's degree. He also plans to pursue a master's in business. "Just because I'm blind and deaf, that doesn't mean I am incapable of doing academic things," he says emphatically. "I push myself to the limit and will continue on."
Brock credits his parents for pushing him to always do his best. He says that they encourage him to value independence, and he relies on their sage advice. He wants to "go far in life" and is willing to do the challenging work it will require to get there.
Belen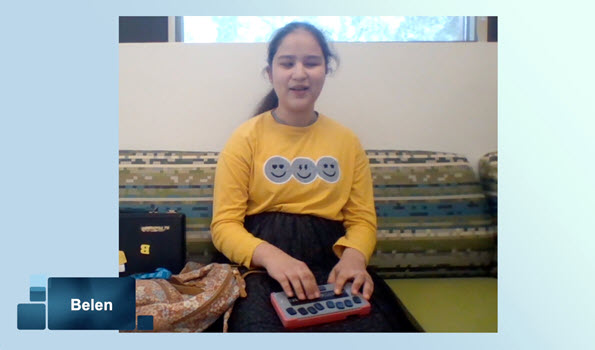 Belen, a sophomore from Ohio, uses JAWS to complete her schoolwork and navigate applications like Google Workspace apps, Google Forms, and the Desmos Online Graphing Calculator. "I like JAWS because I can change it to a voice I can understand," Belene explains.
Her favorite subject is science because the hands-on activities in that class make learning easier for those with a visual impairment.
Outside of school, Belen enjoys reading almost any fiction genre except horror. She also likes singing and listening to music. "I love music. After college, I would like to work as a music therapist with people who have visual impairments. It would be a fun career."
Belen is thankful for Freedom Scientific because it helps her access information more easily, especially in school. Belen's advice to her peers? "Just because you are visually impaired doesn't mean you can't do this or that. Don't let your visual impairment get in the way of that. There's a lot you can do, so follow your passion and you can do anything you put your mind to."
Learn more about all three students in this highlight video.
Nominate a Student
Complete our nomination form to self-nominate or nominate a student. Visit the Freedom Scientific Student of the Month page for details.
Winners receive a $300 Amazon gift card and a five-year license for JAWS, ZoomText, or Fusion. Their story will be featured by Freedom Scientific on our blog and social media: X (formerly Twitter), Facebook, Mastodon, and Instagram.
In partnership with Computers for the Blind, each winner can also receive a free, refurbished computer along with a free one-year Home Annual license of JAWS or ZoomText, which is already installed. Learn more about Computers for the Blind and their partnership with Freedom Scientific on their order page.
Have questions? Send an email to training@vispero.com.