The Freedom Scientific Student of the Month program features K-12 students living in the U.S. who are blind or visually impaired and use Freedom Scientific technology to achieve educational goals. The Student of the Month for November 2021 is Olivia, a seventh grader from Missouri.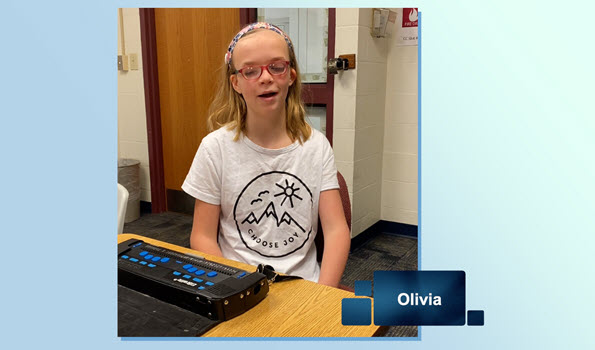 Olivia has been a JAWS user since the fourth grade, and she began using the ElBraille last year. She likes these products because they give her access to Microsoft applications like Word and PowerPoint, as well as Google Workspace applications and Canvas LMS (a web-based learning management system). "I really like JAWS because it's really easy to use," Olivia said. "I'm able to do all of the assignments and access Canvas just like everyone else."
Olivia uses the ElBraille to complete school assignments, and the JAWS Math Editor enables her to read equations more efficiently. "We tried this in Notepad, but that didn't work well, so the Math Editor saved us."
Olivia enjoys acting in school plays and with local theater groups. She also participates in her school's band and choir, plus competes in cross-country track and swimming. "I am very grateful to you all for making JAWS. I love being treated just like everyone else because school is very important to me."
Learn more about Olivia in this short video.
Nominate a Student
Complete our nomination form to self-nominate or nominate a student. Visit the Freedom Scientific Student of the Month page for the details. Have questions? Send an email to training@vispero.com.