The Freedom Scientific Student of the Month program features K-12 students living in the U.S. who are blind or visually impaired and use Freedom Scientific technology to achieve educational goals. The Student of the Month for March 2023 is Layla, a seventh-grader from North Carolina who has used JAWS since second grade.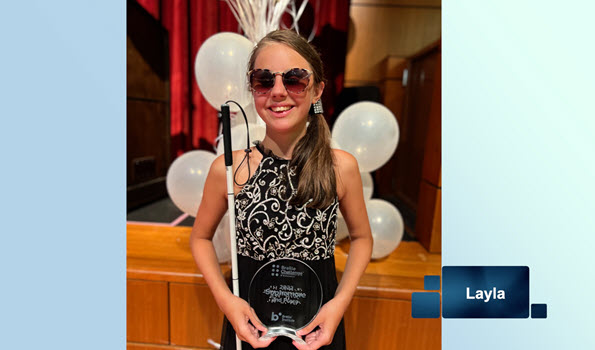 Layla uses a laptop with JAWS to complete assignments both in school and at home. "It works well for Google products like Drive, Classroom, Docs, Slides, and Forms for submitting work."
She goes on to explain that it really helps her when conducting research. "I really like how JAWS works with Google. It helps a lot when I need to search for information."
Her JAWS skills improved during the pandemic when she had to attend classes and complete schoolwork online. One of her favorite features is the Voice Assistant, which she uses mostly at home. "I also especially like JAWS commands because they make things so much easier."
Layla plays the clarinet in her school band, and upon auditioning, was recently selected as second chair clarinet for the All-County band, and fifth chair for the All-District band. She also enjoys participating in drama at her school, where she has acted in several plays including Madagascar JR. and The Lion, the Witch, and the Wardrobe.
Her favorite subject in school is English. "I love to read and to debate themes and concepts. I really like that there is no right or wrong answer sometimes. That makes the discussions fun."
In her spare time, Layla enjoys swimming, rock climbing, hiking, and tandem biking. She noted several career interests, including actor, singer/songwriter, author, and dolphin trainer.
Layla advises other students who are blind to use JAWS at school and at home. "JAWS works well with a lot of different things. It is very fast and help messages are there if you need them. It's very helpful to anyone who needs it."
Learn more about Layla in this video.
Nominate a Student
Complete our nomination form to self-nominate or nominate a student. Visit the Freedom Scientific Student of the Month page for details.
The selected Freedom Scientific Student of the Month will receive a $300 Amazon gift card, and a five-year license of JAWS, ZoomText, or Fusion. Also, their story will be featured by Freedom Scientific on our blog and social media: Twitter, Facebook, and Instagram.
In partnership with Computers for the Blind, each winner is eligible to receive a free, refurbished computer along with a free Home Annual license of JAWS or ZoomText, which is already installed. Learn more about Computers for the Blind and their partnership with Freedom Scientific on their order page.
Have questions? Send an email to training@vispero.com.