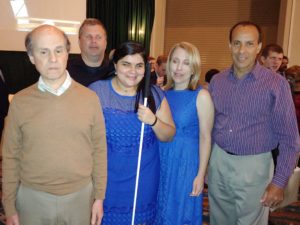 We were pleased once again to provide a scholarship as part of the National Federation of the Blind's scholarship program. The award's recipient this year is Kenia Flores, a JAWS user whose goal is to become a civil rights attorney.
Kenia credits NFB for expanding her world-view of what blind people can achieve. She had heard of the organization before, but became involved through a student program when she was 14. Visiting chapter meetings and the NFB's National Center in Baltimore introduced her to blind adults she could look up to.
When she was 17, Kenia attended the NFB's Washington Seminar, where attendees advocate to members of Congress about the Federation's priorities.
"I was 17 at that point in my life, and I never thought that I'd be speaking with members of Congress to influence policy. I realized that the rights that I have today, as a woman, as someone who's Hispanic, as someone who's blind, are because of other people who have advocated before me, and I knew that I wanted to do that for people who come after me", Kenia says.
Kenia is making this dream a reality through her studies at private liberal arts school Furman University in Greenville South Carolina, which our scholarship will help fund.
She has two years remaining in her undergraduate studies. After graduation, she plans to spend time at the Louisiana Center for the Blind to obtain additional training in blindness skills. Her law school training will then take three more years.
Kenia's excited about the future and its many possibilities. She interned with NFB last summer, something she describes as, "definitely my favorite internship by far". She hopes to practice at a firm or non-profit initially, and see how it goes.
Kenia is making contributions to the NFB in several ways. She's President of the North Carolina Association of Blind Students, and is the Legislative Chair for the state. Nationally, Kenia is Second Vice President of the National Association of Blind Students. She also serves on several national committees. Why does she take on these voluntary responsibilities when she has plenty of coursework to do?
"When I first joined the organization, I had people mentoring me, and I'm still being mentored to this day. So, for me to be able to give back and do that for someone else is completely worth it to me".
In terms of technology, Kenia says, "I'm a big JAWS user. It's my primary screen reader, so thank you for everything that y'all do".
Knowing that JAWS is a critical tool in empowering the independence and success of Kenia and others like her is what drives the staff at Freedom Scientific. There is no doubt we will be hearing more from Kenia in the years to come.
If you would like to hear more from Kenia, be sure to catch the next episode when it is published of FSCast, our official podcast, which includes an interview with her.