The Freedom Scientific Student of the Month Program features K-12 students living in the U.S. who are blind and visually impaired and use Freedom Scientific technology to achieve their educational goals. The Student of the Month for June 2021 is Abby, a junior from New Hampshire.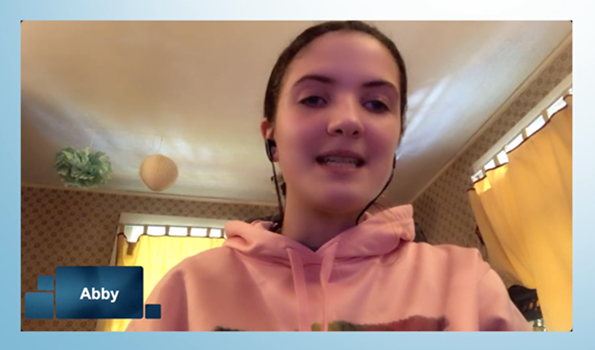 Abby relies on JAWS and a Focus 40 Blue Braille Display to complete coursework. She uses this technology to conduct research, read textbooks, and surf the internet. She also regularly accesses apps like Microsoft Office and Google Workspace.
Abby connects a Focus 14 Blue Braille Display to her phone to access mobile apps, social media, and other content. "Having something embossed in braille is not practical for everything. Using a braille display is useful in that sense," Abby said.
Abby is also a competitive Alpine skier. She participates in multi-national races and aspires to compete in the Paralympics. Her dad serves as her skier guide, which makes competition even more special.
In her spare time, Abby enjoys reading fantasy fiction and the Marvel superhero series. She likes Captain Marvel and the Scarlet Witch the best because they are positive female characters who represent strength of will.
After graduating from high school, Abby plans to attend college where she will major in psychology. She is interested in working as a clinical or forensic psychologist.
Learn more about Abby in this short video.
Nominate a Student

Complete our nomination form to self-nominate or nominate a student. Visit the Freedom Scientific Student of the Month page for the details.