The Freedom Scientific Student of the Month program features K-12 students living in the U.S. who are blind or visually impaired and use Freedom Scientific technology to achieve educational goals. The Student of the Month for July 2023 is Alan, a seventh grader from Pennsylvania.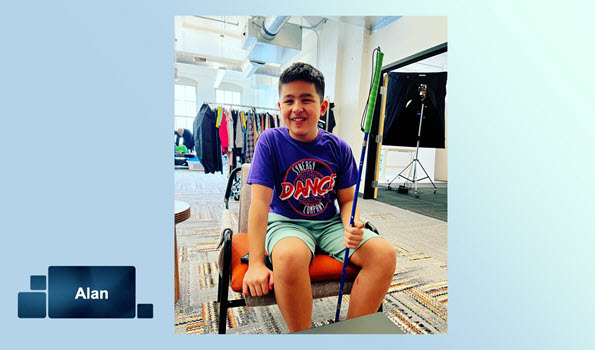 Blind since birth, Alan uses JAWS and the Focus Braille display both at school and at home to complete assignments. "I use the Focus with Google Docs. It has a lot of cells, which is good for reading."
Alan also uses JAWS and the Focus to access the Schoology learning management system, which his school uses to make course materials online. "Students can access assignments, grades, and message teachers if we need help with assignments. I often use JAWS to access that."
His braille expertise made his parents proud when Alan won first place in the Pennsylvania Braille Challenge, an academic contest that encourages students who are blind to practice their braille skills. "I started learning braille in preschool and use it a lot," Alan tells us.
He has also won first place and numerous titles as a tap dancer competing against sighted dancers. "I like the sound aspect of tap dance. It sounds cool, and the moves are straightforward most of the time," he says.
In his spare time, Alan keeps busy! He skis, plays video games, evaluates the games for accessibility, and records music using a Windows-based application called Reaper.
Alan is interested in possibly pursuing tap dance in college, and is considering a career as a music producer or accessibility tester. "People who are blind are separated from their peers in some online services. I want to be part of the solution for that, and help blind and sighted people connect more."
Learn more about Alan in this video.
Nominate a Student
Complete our nomination form to self-nominate or nominate a student. Visit the Freedom Scientific Student of the Month page for details.
Winners receive a $300 Amazon gift card and a five-year license for JAWS, ZoomText, or Fusion. Their story will be featured by Freedom Scientific on our blog and social media: Twitter, Facebook, Mastodon, and Instagram.
In partnership with Computers for the Blind, each winner can also receive a free, refurbished computer along with a free one-year Home Annual license of JAWS or ZoomText, which is already installed. Learn more about Computers for the Blind and their partnership with Freedom Scientific on their order page.
Have questions? Send an email to training@vispero.com.