The Freedom Scientific Student of the Month program features K-12 students living in the U.S. who are blind or visually impaired and use Freedom Scientific technology to achieve educational goals. The Student of the Month for February 2022 is Brennan, a senior from California.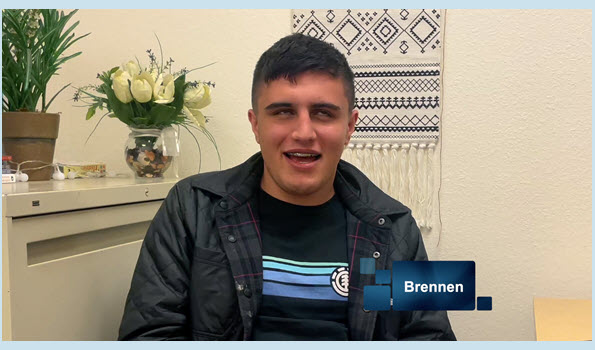 Before his senior year, Brennan primarily used a Braille notetaker to complete assignments. Though he only began learning how to use JAWS with the Focus 40 Braille display at the start of the year, he has made exceptional progress. "JAWS helped me access the internet in ways I didn't know were possible," Brennan said. "It puts me on the same playing field as my sighted peers."
Brennan learned JAWS simultaneously with a wide range of applications, including:
Canvas Learning Management Platform
Google Workspace applications
Google Chrome web browser
Google Drive
He now prefers using a computer with the Focus Braille display over a Braille notetaker because of the additional functionality. "Computers as a whole are far superior to notetakers when research is involved. You can do more with them, and they provide a far more streamlined method of accessing the internet."
Brennan uses the Focus to complete his written assignments, and English is one of his favorite subjects. "Freedom Scientific products prepare me to achieve my future goals. Without them, I wouldn't be able to do the things I can do."
In his spare time, Brennan practices Brazilian jiu-jitsu, a martial art that relies on leverage, grip, and position to subdue a bigger, stronger opponent. He also enjoys producing music using computer applications. "I like having control over production and am fascinated by all the effects used to make things happen."
Brennan is currently interning with Freedom Scientific. One of his duties is to test braille displays. "It's my first work experience, and it's amazing," he said. "I get to help blind people achieve their dreams, and I'm happy to be a part of that."
Brennan wants to become JAWS-certified before graduation because he realizes that JAWS and the Focus display will make him more competitive in the workforce. When asked if he has any advice for others learning to use these products, he said, "Learn it and keep learning, and you will become proficient."
Learn more about Brennan in this short video.
Nominate a Student
Complete our nomination form to self-nominate or nominate a student. Visit the Freedom Scientific Student of the Month page for the details. Have questions? Send an email to training@vispero.com.