The Freedom Scientific Student of the Month for December 2022 is McKayla, a junior from Texas. This program features K-12 students living in the U.S. who are blind or visually impaired and use Freedom Scientific technology to achieve educational goals.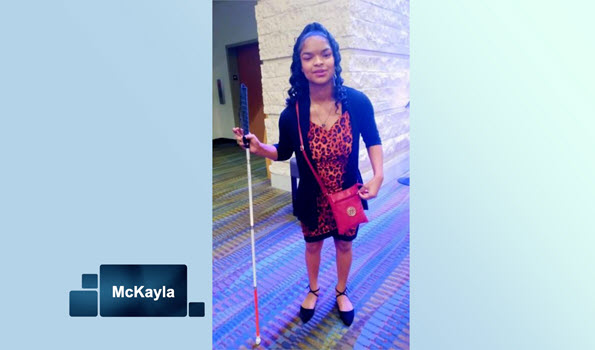 McKayla has been a JAWS user since she was introduced to the software in kindergarten. Today, she uses it to complete assignments and conduct research. "JAWS is an excellent technology to use because it is all auditory," McKayla says.
She also uses a Focus 40 Braille Display to complete classwork, telling us that it gives her another way to access information. "I can use the Focus when I just want to read braille without listening to speech."
McKayla enjoys school and is excited to be accepted into the National Honor Society. Her favorite subject is history. "I like it because the teacher makes it fun," she explains.
She has many musical talents. Besides being in the school choir, where she uses braille to read song lyrics, McKayla enjoys playing guitar and dancing. Best of all, she likes simply spending time with friends and family.
After graduating from high school, McKayla plans to pursue a professional acting and singing career. She advises other students who are blind or visually impaired to learn and use technology both in school and in their daily lives. "Freedom Scientific has helped me so much throughout my journey and throughout my life. I wouldn't be able to do anything without JAWS and the Focus 40 display."
Learn more about McKayla in this video.
Nominate a Student
Complete our nomination form to self-nominate or nominate a student. Visit the Freedom Scientific Student of the Month page for details.
Winners receive a $500 Amazon gift card and a computer from Computers for the Blind. Each computer comes with a one-year Home Annual license of JAWS or ZoomText, which is already installed. Learn more about Computers for the Blind and their partnership with Freedom Scientific on their order page.
Have questions? Send an email to training@vispero.com.