The Freedom Scientific Student of the Month program features K-12 students living in the U.S. who are blind or visually impaired and use Freedom Scientific technology to achieve educational goals. The Student of the Month for December 2021 is Matthew, a ninth-grader from Texas.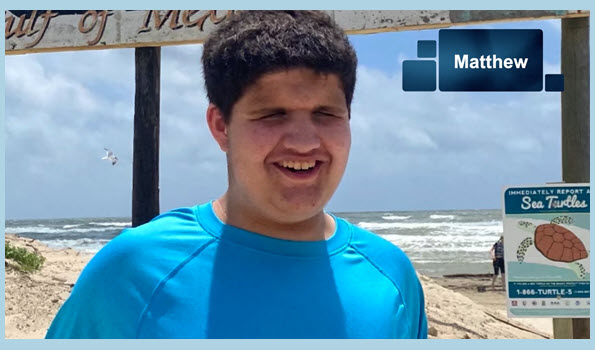 Matthew first began learning JAWS when he was six years old and has been using the Focus refreshable braille display since the sixth grade. Before the COVID-19 pandemic, he primarily used a computer for school, but in 2020, he began using it at home to perform personal tasks and sharpen his skills.
His favorite subjects in school are history and English. "I like knowing how different things worked in the past versus how they are now," Matthew said. "I like to know how stuff works and have an opinion on things."
When discussing the use of technology with other individuals who are blind and visually impaired, Matthew says he would definitely recommend becoming adept with available tools like JAWS and the Focus. "With any accessibility product, there will be a learning curve. It's frustrating at first, but you have to keep your mind open, and once you get into it, it becomes easier."
Matthew encourages others to be persistent when learning how to use technology. "Start early, focus on what you like to do, and technology can get you there. You just have to use it the right way, and you just have to learn and figure it out. Because the doors are open, and if they're not, they can be."
After high school, Matthew is interested in pursuing a career in either music or technology, specifically in the field of application development. In his spare time, he enjoys going on walks and playing the piano. He recently competed in Honor Choir where he made First Chair singing bass.
Learn more about Matthew in this short video.
Nominate a Student
Complete our nomination form to self-nominate or nominate a student. Visit the Freedom Scientific Student of the Month page for the details. Have questions? Send an email to training@vispero.com.