The Freedom Scientific Student of the Month program features K-12 students living in the U.S. who are blind or visually impaired and use Freedom Scientific technology to achieve educational goals. The Student of the Month for August 2023 is Brock from Tennessee. He will begin attending the University of Alabama in the fall, where he will study computer science.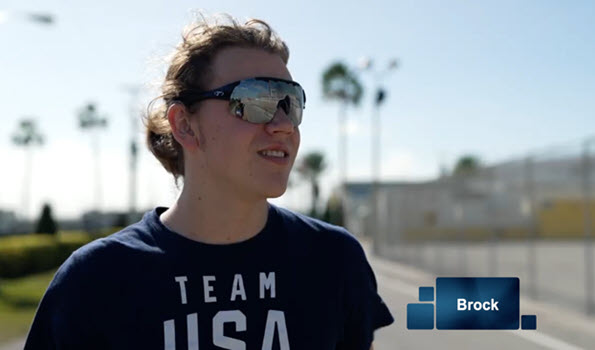 Brock is DeafBlind and has been using assistive technology since kindergarten. He uses Fusion to access and complete assignments and said he has always requested digital formats for books and other study materials. "I use a combination of ZoomText and JAWS, especially since I want to be a computer programmer. I need JAWS to read lines of code, so use it as much as I can."
Brock is also a triathlete, who competes in swimming, cycling, and running. He has completed 85 triathlons in the last ten years.
Brock is also a member of the United States Blind Hockey team and plans to join the triathlon and hockey teams in college to continue his training and competition. He began playing on a hockey team for disabled children when he was six. "I left that team after two years but kept skating. In 2016, I was chosen by the head of the Canadian Blind Hockey team and have played ever since."
Brock has already taken college courses and has completed 35 percent of his degree to date. After getting an undergraduate degree, he plans to pursue a master's in business. "Just because I'm blind and deaf doesn't mean I am incapable of doing academic things. I push myself to the limit, and will continue doing that this fall."
Brock credits his parents for pushing him to always do his best. "Their advice has always led me to a good place, so I should value independence as much as they do. I will go farther in life."
Learn more about Brock in this video.
Nominate a Student
Complete our nomination form to self-nominate or nominate a student. Visit the Freedom Scientific Student of the Month page for details.
Winners receive a $300 Amazon gift card and a five-year license for JAWS, ZoomText, or Fusion. Their story will be featured by Freedom Scientific on our blog and social media: Twitter, Facebook, Mastodon, and Instagram.
In partnership with Computers for the Blind, each winner can also receive a free, refurbished computer along with a free one-year Home Annual license of JAWS or ZoomText, which is already installed. Learn more about Computers for the Blind and their partnership with Freedom Scientific on their order page.
Have questions? Send an email to training@vispero.com.