The Freedom Scientific Student of the Month program features K-12 students living in the U.S. who are blind or visually impaired and use Freedom Scientific technology to achieve educational goals. The Student of the Month for April 2023 is Jonathan, a junior from Florida.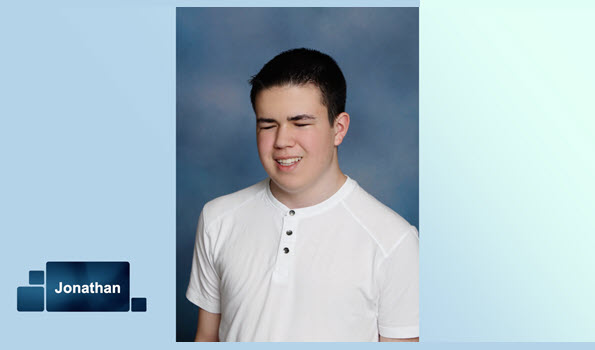 Jonathan has been a JAWS user for many years, and he appreciates the versatility it gives him both in and out of the classroom. "I like the Convenient OCR feature because it reads the text in images if you can't read it. JAWS also works well in Office applications."
He also uses a Focus 40 Refreshable Braille Display, which has enough cells to read long documents. "I get to read documents and stories with the class at the same time as everyone else," Jonathan says.
His favorite subjects are Spanish, reading, and cybersecurity. Just after starting high school, Jonathan joined his school's Cybersecurity Academy, where he began learning programming languages such as JavaScript and HTML. Since then, he has also learned Python and other languages. As a member of a club called Cyber Patriots, he takes part in competitions where they demonstrate cybersecurity tips and tricks. After high school, Jonathan plans to obtain a Computer Science degree and pursue a career in cybersecurity.
In his spare time, Jonathan enjoys playing audio games, talking to friends online, researching technology, and writing computer programs. Each summer, he volunteers as a counselor with Camp Abilities, an educational sports camp in Florida for kids ages 8-16 who are visually impaired. "I like to help organize activities and give back to the community. I think that is important."
Jonathan advises other students who are blind to use JAWS and the Focus Braille Display. "I like to show them how it works, show the commands, and direct them to user guides."
Learn more about Jonathan in this video.
Nominate a Student
Complete our nomination form to self-nominate or nominate a student. Visit the Freedom Scientific Student of the Month page for details.
Winners receive a $300 Amazon gift card and a five-year license for JAWS, ZoomText, or Fusion. Their story will be featured by Freedom Scientific on our blog and social media: Twitter, Facebook, and Instagram.
In partnership with Computers for the Blind, each winner can also receive a free, refurbished computer along with a free one-year Home Annual license of JAWS or ZoomText, which is already installed. Learn more about Computers for the Blind and their partnership with Freedom Scientific on their order page.
Have questions? Send an email to training@vispero.com.