The Freedom Scientific Student of the Month program features K-12 students living in the U.S. who are blind or visually impaired and use Freedom Scientific technology to achieve educational goals. The Student of the Month for April 2022 is Jon Paul, an eighth-grader from Virginia.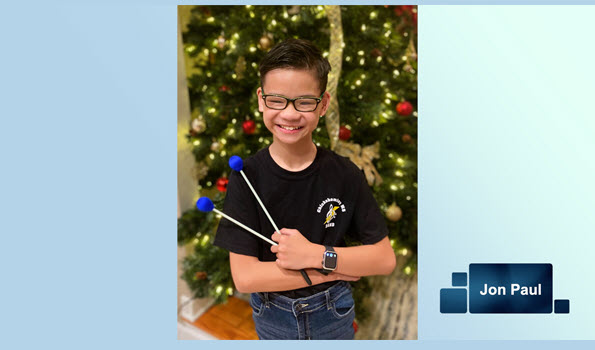 Jon Paul began using JAWS when he was 5 years old. Today, he uses JAWS and his Focus 40 Blue Braille display to browse the web, read documents, and complete schoolwork. He says math is his favorite subject. "I like using JAWS because it helps me with my assignments. JAWS makes things accessible to everyone."
Jon Paul's dad, Mike, who is also a JAWS user, said it levels the playing field. "It enables me to access the internet, read and edit my Word documents, and access my email."
Jon Paul's mom, Faye, said having two JAWS users in the family places them at the forefront of technology. "Accessibility is key for everyone. Freedom Scientific addresses that need."
When not doing schoolwork, Jon Paul stays busy with sports activities. He competes on his school's swim team and is a student manager on the baseball team. Learn more about Jon Paul in this video.
Nominate a Student
Complete our nomination form to self-nominate or nominate a student. Visit the Freedom Scientific Student of the Month page for details.
Winners receive a $500 Amazon gift card and a computer from Computers for the Blind. Each computer comes with a one-year Home Annual license of JAWS or ZoomText, which is already installed. Learn more about their organization and partnership with Freedom Scientific on their order page.
Have questions? Send an email to training@vispero.com.