The Freedom Scientific Student of the Month Program features K-12 students living in the U.S. who are blind or visually impaired and use Freedom Scientific technology to achieve educational goals. The Student of the Month for February 2021 is Campbell, a high school student from Tennessee.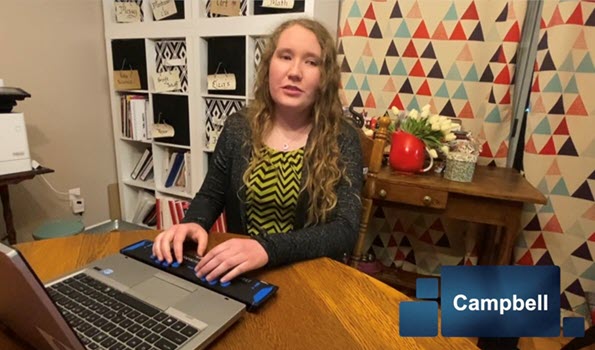 As a home schooled student, Campbell has employed numerous devices over the years to access classwork. Until about four years ago, she used a braille notetaker and cell phone paired with a braille display.
After receiving training, she switched to a Windows computer, JAWS, and the Focus Braille Display, which gives her access to all her schoolwork in one place. "There are just so many things I can do with JAWS and the Focus now that I never was able to do with the other devices that I used."
Campbell excels in mathematics, and is enthusiastic about calculus, statistics, and other related subjects. After high school, she plans to attend college to pursue a degree in applied mathematics. She is interested in either Epidemiology or Cyber Security as a career path.
Learn more about Campbell in this short video.
Nominate a Student

Complete our nomination form to self-nominate or nominate a student. Visit the Freedom Scientific Student of the Month page for the details.